---
The icons
The true icons of the Bonpoint style are timeless styles that are re-enchanted from season to season and thus contribute to the heritage of the house.
---
THE DUCHESS DRESS
Since 1975, the year Bonpoint was born, the smock dress has been one of the iconic pieces in the maison's wardrobe. The crafting technique of the smocks, which can require up to 17 hours of embroidery work, is the signature of the exceptional know-how of the Duchesse dress. Its lightweight, refined fabric and delicate gathering under the bust add charm to this timeless dress.
---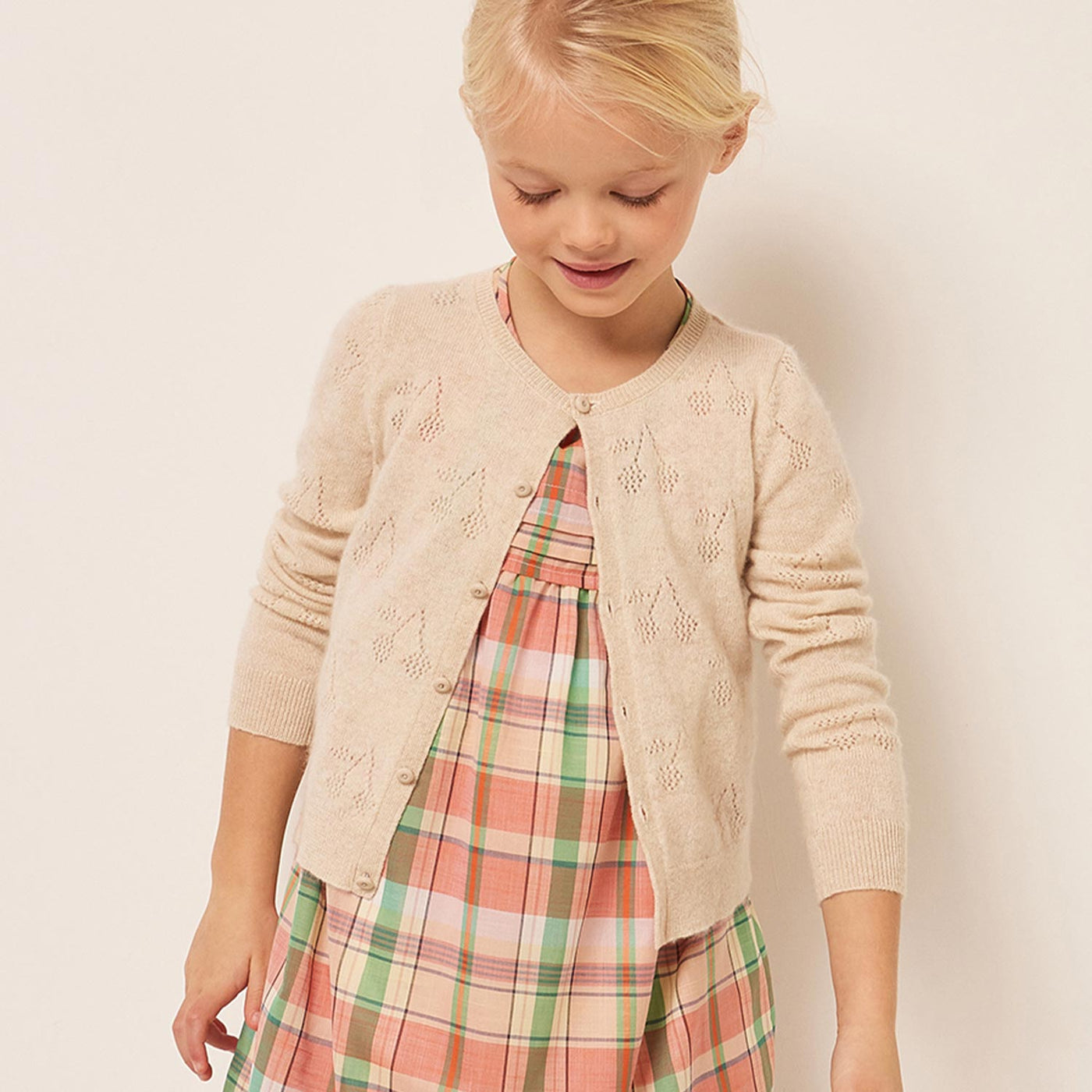 THE CARDIGAN
The adorable cardigan, featuring the brand's signature hand embroidered cherries, will keep little girls cozy and warm as the cool weather approaches. Precious details embellish these exquisite pieces, elevating the look of the fine, delicate knit. Our cardigans are made of cotton as well as soft cashmere, a truly exceptional material that will never go out of style.
---
THE ARTIST SHIRT
The Artiste shirt for boys is a timeless classic from the House of Bonpoint. This piece is made from a blend of cotton and linen, giving it a lightweight, breezy character. With its distinctive Mandarin collar, the Artiste shirt is an emblematic design of the House. This season's version features elegant two-tone stripes.
---
EMBROIDERED COLLAR BODYSUIT
The bodysuit, with its distinctive handmade embroidery on the collar, captures the essence of the Bonpoint spirit and values. It's one of the first wardrobe pieces in a baby's life, creating an enduring bond between a newborn and the House of Bonpoint. Recognizable by their exceptional quality of materials and fine details, our iconic bodysuits, featuring hand-embroidered collars, embody the excellence of the brand's know how.
---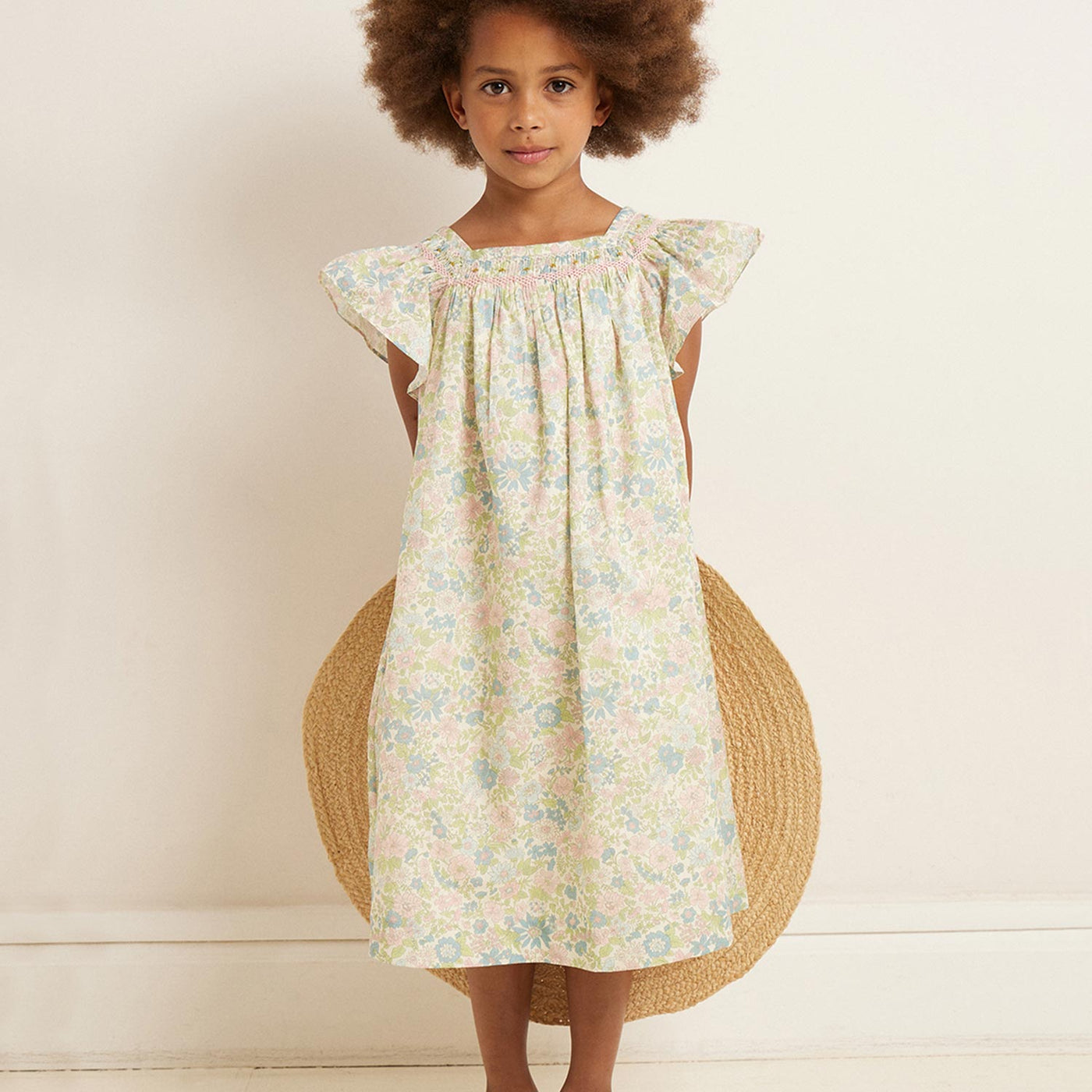 THE PEASANT DRESS
A staple in a little girl's wardrobe, the peasant dress, with its distinctive cut and authentic design, is one of the House's signature pieces. Poetic flowers and intense tones give a dainty touch to this smocked dress.
Ethnic-inspired hand-embroidered smocking elevates the design of this piece.
This dress was created from vintage overdyed Liberty Fabric stocks.
---
LE TRENCH COAT
Delightfully classic and terribly trendy, our must-have trench coat draws its inspiration from the iconic cutand tie belt of the traditional adult version.This signature piece, which combines modernity, singularity, poetry,and innovation, reflects the brand's culture and core values.New this season: tartan lining and a removable hood for an ultra-modern look.
---
THE MARY JANE
Inspired by the popular comic characters Buster Brown and his sister Mary Jane, the classic Mary Jane reinvents itself from season to season. A symbol of feminine childhood, the classic Mary Jane requires a manufacturing time of 30 minutes with a process of 30 different operations. A specific sole in cowhide leather selected for its flexibility has been made exclusively for the Maison Bonpoint.